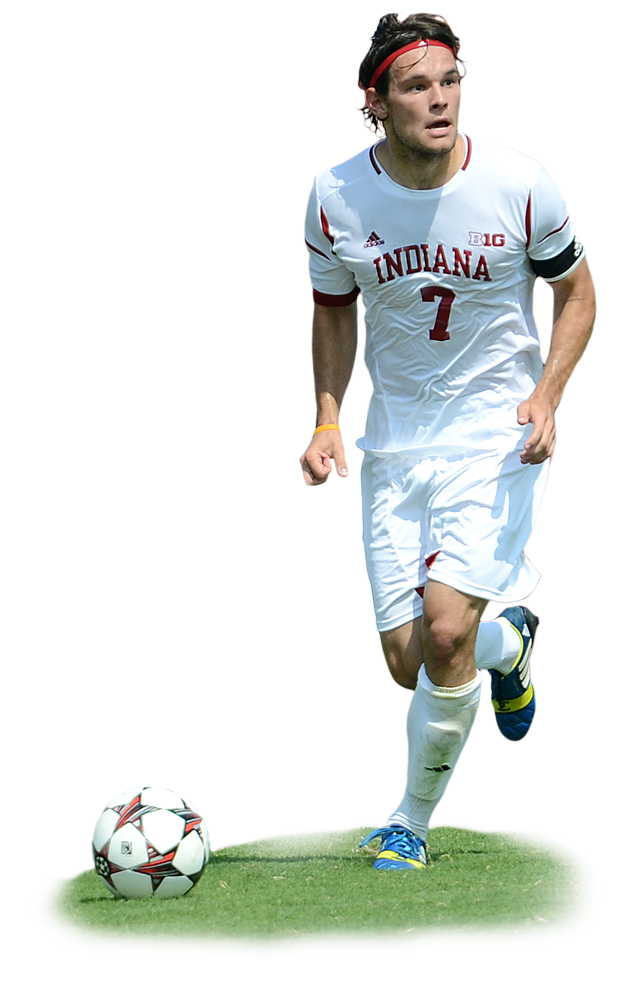 The Winter ID Camp is for boys, high school age, looking to play soccer at the collegiate level. This is a fast-paced, combine-type camp, held in the Mellencamp Pavilion at Indiana University.
All Indiana Soccer Camps are "ID Camps." Players are evaluated on and off the field for passion, skill, coachability, and character. The Winter ID Camp provides an opportunity for high level players to work with the IU coaching staff along with other college coaches during a natural break with Club and HS commitments.
2023 Winter ID Camp Dates
January 7-8 2023
2023 Winter ID Camp Location
Mellencamp Pavilion
1001 East 17th Street
Bloomington, IN 47408.
Camp begins Saturday morning and runs until Sunday afternoon.

Camp Registration
To register, click on any "Register Now" button. Please allow the page to fully load. Payments accepted by credit card online through our secure registration site. There is no charge to register to the waitlist; if space becomes available, you will be contacted to accept or decline the spot.
Camp tuition is $315 for 2023 (does not include hotel or meals).
Hotel reservations are the responsibility of the player and family. The nearby Holiday Inn Express is recommended.
Payment must be made in full at time of registration.
Camp does fill to capacity. Please apply early, especially goalkeepers. When the session fills, an online waiting list will become available. No deposit is necessary to be placed on the waiting list.
Upon receipt of the camper's application and parental consent form online or by mail, a confirmation letter will be sent to you via email. Please email us at info@indianasoccercamp.com if you have not received confirmation immediately following online registration.
Camp check-in begins Saturday at 9:15am EST at Mellencamp Pavilion.
Camp concludes on Sunday at approximately 5:30pm.
Please see Daily Schedules for more information.
For detailed arrival and departure information, please click here.
Refund/Cancellation Policy
To cancel your player's camp reservation, please provide a written cancellation emailed to info@indianasoccercamp.com.
Cancellations must be submitted before 11:59pm, January 1, 2023. All fees refunded except $50 handling and processing fee. This applies to all reasons for cancellation, including medical, as most cancellations for athletics camps are due to injury.
Cancellations after 11:59pm on January 6, 2023, no refund.
If you know you need to cancel, please inform us at earliest date possible to allow the next player on the wait list to be accepted into camp. Cancellation date of January 6 is meant to accommodate players sustaining injuries at holiday tournaments and does not allow sufficient time for travel plans for wait listed players.
Application fees and deposits are non-transferrable. Camp tuition cannot be transferred to another camp or future years. Camp cancellation policies apply for any reason, including medical, as most cancellations in an athletics-related camp are due to injury.
Physicals
No physical examination required.
Each player must have a new, completed parental consent form on file with the camp each winter, completed at the time of initial online registration.
Players should arrive at camp in good physical condition.
Health professionals are available at camp during all training sessions..
Insurance
The Indiana Soccer Camp provides only secondary accident/medical insurance. Parent/guardian must provide primary insurance for their camper to be fully covered. Please check with us if you have questions.
Campers without health insurance are permitted to attend camp provided the family signs the waiver and assumes the risk of injury.
Transportation to and from Indiana Soccer Camp
Players/families are responsible for their own lodging and meals.
The Indiana Soccer Camp does not provide transportation to and from Bloomington from the Indianapolis International Airport.  However, we recommend  Bloomington Shuttle (GO Express) Service (800) 589-6004 or Classic Touch Limo (800) 319-0082. Both companies frequently provide transportation for IU students and Indiana Soccer Camp players and are familiar with young people traveling on their own.
Eligibility
Camp is open to any and all participants, boys 11-18+. NCAA legislation allows high school graduates to attend camp.
Training Environment
The Winter ID Camp is an ID camp for high school age players planning to play collegiate soccer.
Camp is both evaluative and developmental, consisting of challenging and innovative small and large group activities focusing on the technical and tactical aspects of the game.
The Indiana University Men's Soccer staff, along with college coaches from a variety of Division I, II, and III universities in the region will provide instruction and insight.
The level of teaching and the interaction of players with the coaching staff, differentiate the Winter ID Camp from camps described as "showcases." While the camp is meant to identify prospective student athletes, our primary purpose is to teach players what is expected of them at the next level of play. Each player will achieve a new understanding of the technical and physical game. IU players are utilized to heighten intensity and pace in the game as the weekend progresses. A greater appreciation for the work ethic expected during the high school years will motivate players to return home with new tools to achieve their goals.
Goalkeepers are given specific training with goalkeeping coaches in small-sided activities and in games. We pride ourselves in making sure the goalkeeper is not "the forgotten player" and limit GK's to no more than 2 per team.
Guidance in sports nutrition and strength and conditioning and a college recruiting talk will round out the curriculum.
Daily Schedules
The Winter ID Camp will be held in Mellencamp Pavilion, an indoor training facility just north of Assembly Hall and the IU Memorial Stadium (American football).
This camp is limited to 65 field players and 8 GK's. Register as soon as possible to
secure a spot.
All scheduling listed below is slightly tentative but gives an idea of how the days are structured for your travel purposes. Arrival and departure times Saturday and Sunday will remain unless severe weather occurs.
SATURDAY SCHEDULE
9:15am-10:15am: Check-in @ Mellencamp Pavilion
10:30am-12:30pm: Training Session
4:30pm-6:30pm: Training Session 9v9
SUNDAY SCHEDULE
9:30am-11:00am: 11 v 11 Matches
11:00am-12:00pm: College Talk and Athletic Facilities Tour
3:30pm-5:30pm:  11 v 11 Matches
(Departing flights should be planned for Sunday at 8:00pm or later from the Indianapolis International Airport.)
Hotel & Campus Information
Families are responsible for player lodging; We recommend the Holiday Inn (1710 North Kinser Pike, Bloomington, IN 47404 Phone: (812) 334-3252) or the adjoining Comfort Inn.
Players are responsible for their own meals with various choices within walking distance of local hotels.
As camp draws near, more information will be sent to you with additional campus information.
Tours of athletics facilities will occur during camp but will not include a campus tour. To schedule a tour of IU Bloomington as a prospective student, please contact the IU Office of Admissions.
Arrival & Departure
Saturday Arrival
Check-in beginning at 9:15am EST at Mellencamp Pavilion, just north of Assembly Hall and the IU Memorial Stadium.
The first training session begins on time at 10:30am.
Late Arrivals: If you will be arriving late due to travel or scheduling conflicts, please email us at info@indianasoccercamp.com or text (812) 219-6811 with player's name, age, field position, and estimated time of arrival.  Information provided in writing is easier than a phone call while we are in the check-in process.
Player must be present at check-in. Parents need not be present.  Carpooling to camp is fine – no signatures required at check-in and medical forms were completed during online registration.
Health professionals are available at check-in for any updates on medical information, medication to be dropped off, or for conversation regarding allergies, prior injuries, etc.
Meals are not served at camp. Please arrive fueled up and ready to play.
Sunday Departure
Training Sessions conclude Sunday, January 8, 2023 at approximately 5:30 pm.
Parents are welcome to observe any training sessions throughout the weekend.
Departing flights should be scheduled no earlier than 8:00pm from the Indianapolis International Airport.
What to Bring
Soccer Ball – EACH PLAYER MUST HAVE ONE
Equipment Bag – for Ball & Gear
Tennis Shoes/Sneakers
Soccer Shoes (Molded cleats or indoor shoes for turf)
Athletic Socks – 5
Underwear – 5
Playing Shorts – 4
T-Shirts – 5
Alarm Clock
Toiletries
Water Bottle
Shin Guards
Sweatshirt, Pants, Outerwear for walking in cold weather
Pajamas
Eyeglasses/contacts/solution (if necessary)
Cell Phone/Charger
Frequently Asked Questions