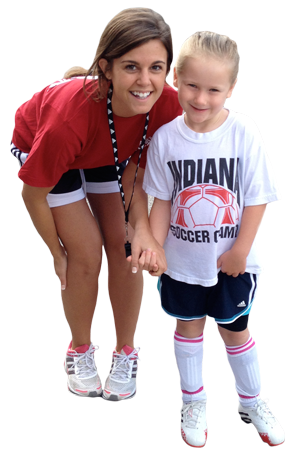 The Indiana Soccer Camp is recognized as one of the nation's leading soccer camps with a reputation built over twenty-five years.  The same environment is brought to the Indiana Soccer Day Camp at Karst Soccer Complex.
Indiana Soccer Day Camp
Camp Details
Half Day:   Ages 6-13 years old (at time of camp)  9am-12noon
The Half Day program is recommended for beginner soccer players and players who may not be ready for multiple training sessions per day.  Each group is divided by age and ability to ensure the best learning environment for all campers.  This program is designed to teach technique, small tactical situations, and continued appreciation for the game of soccer.
All Indiana Soccer Day Camp programs are available for boys and girls!
(Note Camp runs Monday-Thursday)
About Programs
Frequently Asked Questions
Day Camp Facilities
Located within a beautiful park setting, Karst Soccer Complex provides an excellent camp environment.  The Karst Soccer Complex is comprised of seven well-maintained soccer fields that provide a fun learning advantage for those participants in the Indiana Soccer Day Camp.
Grandview Elementary will serve as the camp headquarters, providing an excellent indoor facility for all the camper's needs.  The school offers a gymnasium, auxiliary rooms for video and meeting space, and a large cafeteria for the camper's snack and lunch needs.
Karst Soccer Complex:
Additional information regarding our camp facility can be accessed below.
link to Karst Soccer Complex
Grandview Elementary:
Grandview Elementary, adjacent to Karst Soccer Complex, will serve as camp headquarters throughout the week of camp.  All drop-off and pick-up duties will be located at the school.
link to Grandview Elementary
What to Bring to Day Camp
Shin guards are required.
Soccer Socks.
Soccer shoes/cleats.
CLEAN indoor soccer shoes or sneakers for indoor activities.
Flip Flops (soccer slides) for easy option during our morning snack.
Water jug.
Snack.
THURSDAY morning: Wear your Indiana Soccer Camp T-shirt to camp!
Please clearly label all items with camper's name, including cleats, as most cleats look the same!
Day Camp Staff
Indiana Soccer Day Camp is directed by Indiana University Men's Soccer Head Coach Todd Yeagley.  Coach Yeagley, along with IU assistants Kevin Robson, Christian Lomeli, and Tanner Thompson lead a staff of qualified youth soccer coaches.  Our Day Camp features the best of Bloomington youth and high school coaches, as well as past and present players from the Indiana Men's and Women's teams.